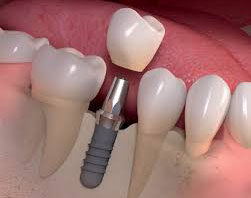 Dental Implants
Dental implants can replace one or more missing teeth and are also used to anchor full or partial dentures and crown and bridges. The dental implant process starts with your dentist embedding titanium posts into the jawbone. Titanium is biocompatible material, so the bone fuses around the posts as though they were real tooth roots.
Then, Dr. Roe will place a beautiful, natural-looking porcelain crown on top of the titanium post. With our CEREC one-visit crown milling machine, we can create your crown and place it all in one visit.
Not every patient is a candidate for dental implants, though, which means that if you're considering implant dentistry, don't hesitate to call Garden Gate Dental to schedule a consultation appointment with Dr. Roe. During a consultation visit at our Raleigh dental office, we can talk to you about your smile and the implant dentistry process. We can also tell you whether you're a candidate for the dental implant procedure following just a simple but thorough dental exam.